Master Chef – Alchemist Cooks Up The Perfect Year
While the rest of the world had a spoiled 2020, Daniel Alan Maman was hard at work crafting another wildly prolific year. With over two decades of work under his belt, it's no surprise that the experienced producer hit the ground running once again. As the year comes to a close, we look back on what has been 365 days jam-packed with Alchemist's creations. 
The Rise
Birthed by the Beverly Hills of California, Maman connected with Soul Assassins' legend DJ Muggs. As one half of The Whooliganz with actor Scott Caan, he broke into the hip hop scene and began his tutelage under the best in the game during the early 1990s. Once on his own sh-t, he quickly rose to prominence through association with legendary groups such as Mobb Deep and Dilated Peoples. Mobb Deep in particular was essential for his growth, asking him to produce the majority of their work going forward, not only allowing him the opportunity to hone his skills alongside elite rappers, but also spread his wings and network with giants in the industry.
As the culture began to take note of Alchemist's meticulously crafted instrumentals, chances arose for him to produce for many others. This lead to the likes of Wu-Tang members, Jadakiss, 50 Cent, Nas, and various other artists working together with him to make tracks that would influence the game for years to come.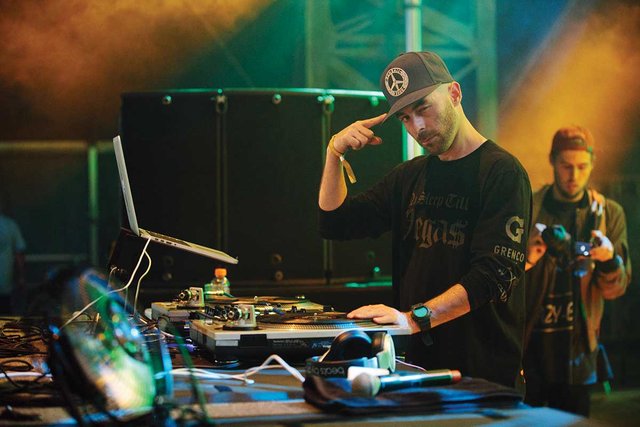 Incorporating the sound of some of his contemporaries like DJ Premier and other prominent 90's producers, Daniel Maman infused his own personality into his tracks, and the work ethic, coolness, and love for the game bleeds through on every beat. Working with such a wide range of artists in different pockets of hip hop has allowed him to touch on nearly every type of mood imaginable. From mind-bending and chopped-up samples to dusty, evocative drum loops, Alchemist has every ingredient he could ever need on his hard-drive and an ever-growing cookbook in his head.
No Slowing Down
Back to the present day, the grizzled producer seems to not have skipped a beat in continually churning out quality projects across the board. One only has to check his recent collaborations to realize this. Beginning with The Price of Tea in China, a joint album with Boldy James, we see that he is if anything, more in touch with his art than ever before. Despite being in what others would call the twilight of his career (compared to other acts who achieve success early on as well), Alchemist seems to pull the haunting, punchy soundscapes out of a bottomless pit. We see his ability to lay down crisp beats as well as floating, shifting tracks on the same project. 
To deliver a one-two punch to the culture, he followed up the Boldy James' collaboration with another. Matching up with Griselda member Conway the Machine, they jointly blessed the underground with the polished project LULU. Providing the perfect textures for the Buffalo native's voice to glide over, he interlocks chopped orchestral samples and eerily spaced out loops to craft a satisfying and powerful 7-song EP.
At this point, one could lay back guilt-free and reap the benefits of a year's work well done… But that wouldn't be very on-brand for Alchemist. What may be his crowning achievement for the turn of the decade is his fingerprints found all over the Grammy-nominated Freddie Gibbs joint album Alfredo. The two combined their experienced styles and adaptive personalities to craft what some call the album of the year. This album features a wide range of voices, from Tyler, The Creator, to Rick Ross and more. Multiple Griselda counterparts join the fray as well, all spitting stories, warnings, and life lessons over Maman's lush production. Earworm keys and chords fall across perfectly placed drums to show the signature sound of the producer hasn't gone anywhere far, in fact, he never left.
In past interviews, Alchemist has articulated how he manages to create such cohesive projects while working alongside such a large array of artists. Crediting his early days as a rapper himself, his ear for the right vocal textures to compliment his style has earned him an incredibly solid discography where each project allows both him and the featured artist to shine on their own terms and exploiting the synergy of the coldest combos in the game. But when he doesn't lock in with another person, his sound doesn't hollow out in the slightest. With what must be a metric ton of samples, loops, vocals, and audio bites, Alchemist crafts engaging solo tapes of his own, just to remind us who's really laying down the beats for our favorite rappers. 
Solo Work
This year has been no different, on top of his 3 standout collab projects and plenty of singles dished out, Maman decided the meal wasn't finished and gave us 2 more tapes, both solo, and both as engaging as any piece of art released this year. A Doctor, Painter & An Alchemist Walk into a Bar blessed us with warbling synths and attention-grabbing drum pockets. A window into his mind might be an understatement, as the veteran creates soul out of thin air with timely vocal samples and thoughtfully placed keys.
His talent for working with audio bites is only exemplified more in his most recent solo work The Food Villain. This is a loose, fun, meticulously crafted dessert to end the full-course meal that has been Alchemist's 2020. Loaded to the brim with vocal snippets and winding instrumental samples, listening to this just makes it seem as though Daniel at this point is only running circles around the game. Long before this year, he was a master of his skill and a complete artist in his own right.
Loud News Net's Producer of the Year (2020)
No one can really do it like him, and no one ever will as long as he's around to prove it. Alchemist had a long trajectory, one could call it an intriguing story arc but that wouldn't quite do it justice for one simple reason – Alchemist is still headed (and cookin') up.